Looking for the Best Lynyrd Skynyrd Tribute Band?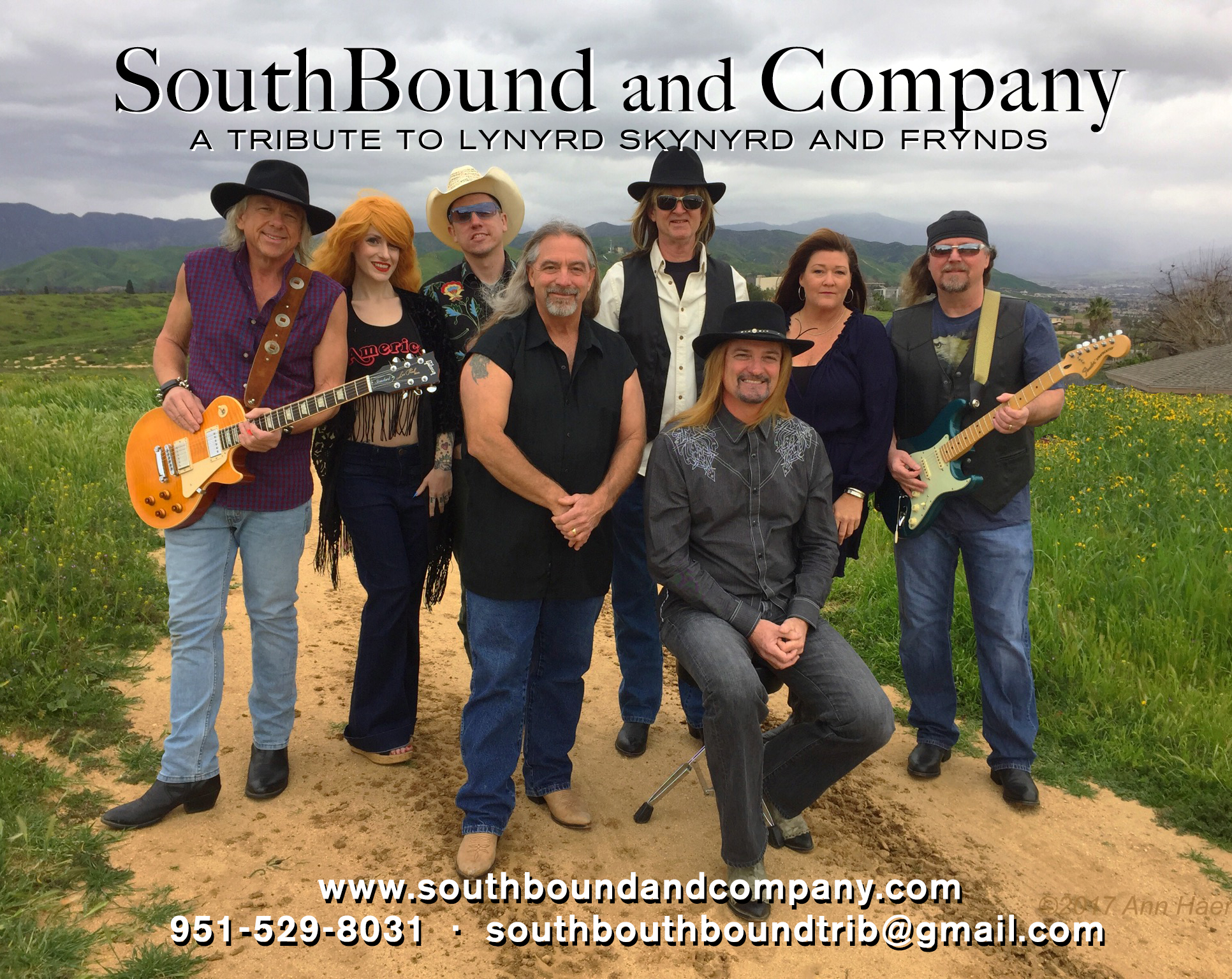 Click the arrow (lower right corner) to listen to the sounds of Southbound's Lynyrd Skynyrd tribute.
SouthBound and Company strives to be the highest quality Lynyrd Skynyrd tribute band and southern rock experience with their "Lynyrd Skynyrd & Frynds" act.
Florida born Darryl Reed plays the role of Ronnie Van Zant with an uncompromising, no nonsense approach to all of his vocals.
Multifaceted lead guitarist Mike Finn has spent the last several years studying the guitar workings of Rossington, Collins, Gaines as well as Ed King. As a result Mike "Dorsal" Finn seamlessly moves from slide guitar, to intricate double leads to wailing hard edged solos and back.
Accomplished Yucaipa drummer/percussionist Michael Hunter has read books and reviewed hours of video focusing on the style of Artimus Pyle. Michael Hunter is a harder hitting version of this great drummer.
Kevin Haerr provides a unique brand of play, trademark high harmonies and a sense of humor not unlike the always unpredictable Leon Wilkeson. Let SouthBound & Company take you on a trip back in time.
Check out this Interview with Darryl Reed regarding SouthBound's success with the Lynyrd Skynyrd tribute show.
Check us out on Music Zirconia, Tribute Band, Tribute City!
Hi Darryl.  I listened to parts of Alabama, 3 Steps, Sat Night Spec, Whats your name…you guys are excellent.  Your vocalist surely wasn't born & raised in RIVERSIDE CA.!  Very good style, he has.  All the instrumentation is solid. Great job!  Ed King (Ed King is one of the original guitar players from the early days of Lynyrd Skynyrd who wrote/co-wrote Sweet Home Alabama and composed the guitar solos on their biggest hit song).
A Tribute To Lynyrd Skynyrd And Frynds
Darryl Reed – Lead Vocals, Harmonica
Mike Finn – Lead & Slide Guitar, Vocals
Kevin Haerr – Bass Guitar
Mike Hunter – Drums & Percussion
Skynyrd and Frynds Team:
Stevie Gauronski AKA "Stevie G" – Lead & Rhythm Guitar
Patrick Vargas – Piano & Organ
Shaun Bernadou – Back-up Vocals
Mia Morte – Back-up Vocals
Play List
| Lynyrd Skynyrd | | | |
| --- | --- | --- | --- |
| Call Me the Breeze | Crossroads | Cry For the Bad Man | Don't Ask Me No Questions |
| Double Trouble | Down South Junkin' | Gimme Back My Bullets | Gimme Three Steps |
| Free Bird | I Know a Little | Needle and the Spoon | Saturday Night Special |
| Simple Man | Sweet Home Alabama | T For Texas (Blue Yodel No.1) | That Smell |
| Tuesday's Gone | You Got That Right | What's Your Name | Whiskey Rock-A-Roller |
| .38 Special | |
| --- | --- |
| Hold On Loosely | So Caught Up In You |
| Allman Brothers | | |
| --- | --- | --- |
| Jessica | Ramblin' Man | Southbound |
The Marshall Tucker Band
Can't See You
| Molly Hatchet | |
| --- | --- |
| Dreams I'll Never See | Flirtin' With Disaster |
Rossington Collins
Dont Misunderstand Me
The Outlaws
Green Grass and High Tides